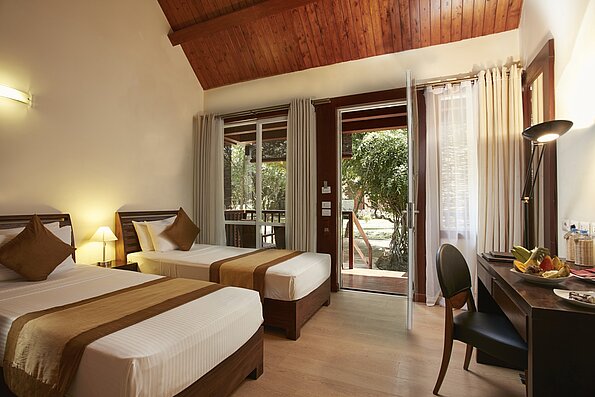 Your Occidental Paradise Dambulla
If there is something surprising about Occidental Paradise Dambulla****, it is because of its special location in the middle of nature and because it offers maximum luxury to all its guests, be it dining under the trees, relaxing by the pool or in the comfort of your villa. The hotel is perfectly connected to the city and to the Dambulla International Cricket Stadium, and close to renowned world heritage sites and nature reserves.
The different rooms are adapted to the specific needs of each guest and share all the common elements: light, comfort and complete facilities to guarantee a perfect vacation.
Kubukkadanwala, Dambulla 21100, Sri Lanka
Telephone: +94 342 276 075
Email: paradise(at)occidentalhotels.com
Reservation center Reservation:
Reserve now!
City center
12 km
Airport CMB
4 hours
Golden temple of Dambulla
25 minutes
Occidental Paradise Dambulla
Large pool and children's pool
Unique location in the jungle
Spa with ayurvedic treatments