The most beautiful city trips in Germany for an unforgettable holiday
Whether culture, art and history or shopping and nightlife – Germany offers multifaceted locations for an exciting city trip. We show you the most beautiful cities with their sights and hotel offers.
1. City trip to Berlin
On a city trip in Germany, many people think of the exciting capital. Whether it's an art museum or street art, a glimpse into history or a shopping tour, a concert at the Philharmonie or a trip to the club scene – the selection of program points and sights in Berlin is overwhelming. In between parks and green spaces invite you to linger and the diverse international restaurants to try.
Accommodation in Berlin
In Berlin we can be found both in the City West directly on the Kurfürstendamm shopping street and in the East in Adlershof. Check in, discover and relax in the heart of Berlin.
Sights at a glance:
Brandenburg Gate
Reichstag building
Boat trip along the Spree
Museum Island & Monbijoupark
East Side Gallery
Peacock Island & Glienicke Castle
Schloss Charlottenburg with castle park
Zoo & Gardens of the World
Our city break hotels in Berlin: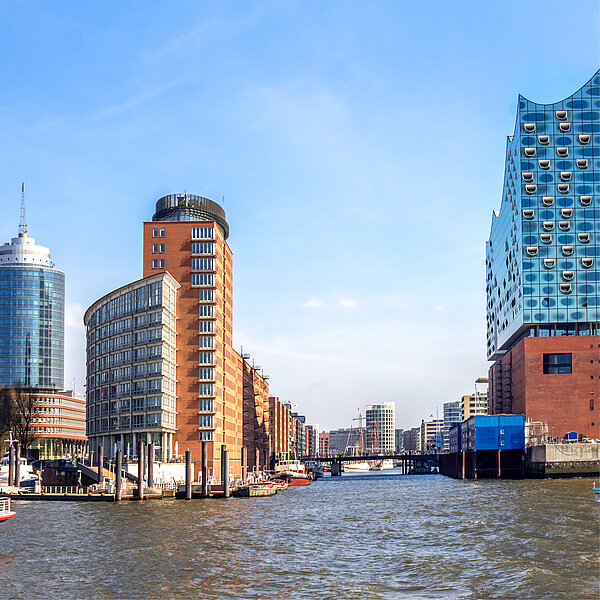 2. City trip to Hamburg
Full of exciting sights and maritime feeling at the harbour, Hamburg welcomes you on your city trip. Visit the museums, the famous Elbphilharmonie and take a leisurely harbour tour.
Accommodation in Hamburg
In the beautiful district of Hamburg-Eppendorf you will stay in our Dorint Hotel with all amenities. Take advantage of our spa area with sauna, fitness equipment and recharge your batteries for an exciting city break!
Sights at a glance:
Harbour tour
Elbphilharmonie
Fish market
Old Elbe Tunnel
Hamburger Kunsthalle
Miniature Wonderland
Reeperbahn
Stage Theatre in the Harbour
Our city trip hotel in Hamburg:
3. City trip to Cologne
Cologne is one of the most visited attractions in Germany – Cologne Cathedral inspires visitors on their city trip to the Rhenish metropolis. Of course, the city is also a magnet for visitors to the "5th season", the carnival. Away from the Jeckenzeit you can discover the idyllic old town with its many small streets, museums and quaint breweries.
Accommodation in Cologne
In the middle of Heumarkt with a view of Cologne Cathedral is our Dorint Hotel at Heumarkt Cologne. Enjoy a drink in the legendary "Harry's New-York Bar" and experience Rhenish friendliness during your holiday. Other Dorint hotels are located at the trade fair, at the train station Deutz or in Cologne-Junkersdorf.
Sights at a glance:
Cologne Cathedral & Cathedral Treasury
Museum Ludwig
The Chocolate Museum
Cologne Zoo
Flora & Sculpture Market
Old Market
Cableway
one of the many breweries
Our city break hotels in Cologne: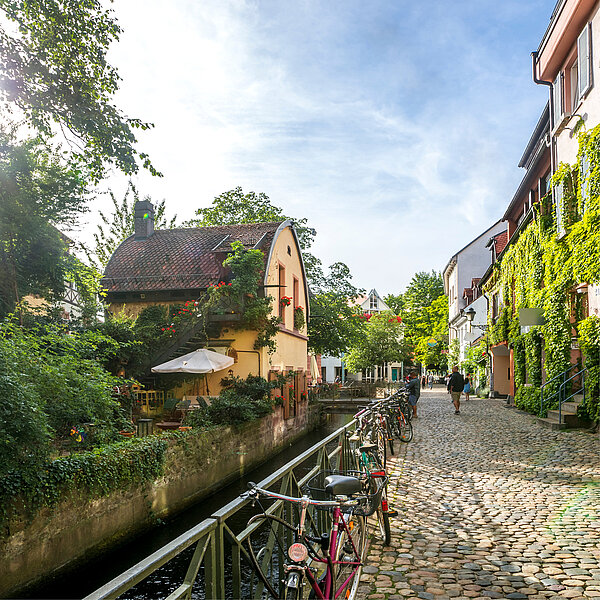 4. City trip to Freiburg
The sunniest city in Germany near the Black Forest makes Freiburg a dream holiday destination. In addition to destinations in nature and in the mountains, the student city offers a picturesque old town with the Freiburg Cathedral and cozy wine taverns.
Accommodation in Freiburg
The Dorint Thermenhotel Freiburg offers delicious food and a connected spa oasis on over 6,000 m². The perfect mix of exciting city trips and relaxing holidays.
Sights at a glance:
Freiburg Münster & Münster Market
Freiburg Bächle
Schwabentor & Martinstor
Schlossberg
Schauinsland
Augustinermuseum
Colombischlössle
Our city trip hotel in Freiburg: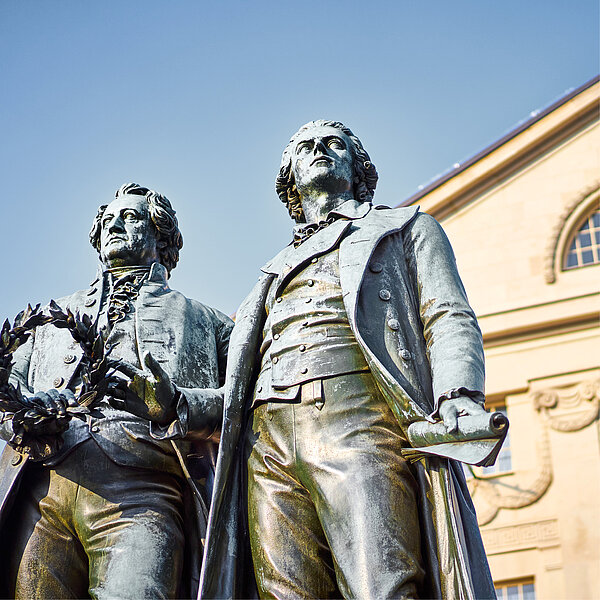 5. City trip to Weimar
Goethe, Schiller, Bach and many other German artists shape the cultural city of Weimar to this day. On a city trip you can walk in the footsteps of important artists such as Schiller and Goethe and visit their respective homes.
Another highlight east of the Old Town is the Duchess Anna Amalia Library, which is one of the first public princely libraries in Germany. It was personally supervised by Johann Wolfgang Goethe and impresses visitors with a beautiful rococo hall.
Accommodation in Weimar
In the midst of all these highlights is our Dorint Am Goethepark Weimar, south of the Old Town am Ilmpark. From here you can discover the sights of Weimar wonderfully.
Sights at a glance:
Goethe's house and garden house
House of Schiller
Duchess Anna Amalia Library
Weimar city castle with castle museum
Bauhaus Museum
Town Hall at the Market Square
German National Theatre
Our city trip hotel in Weimar: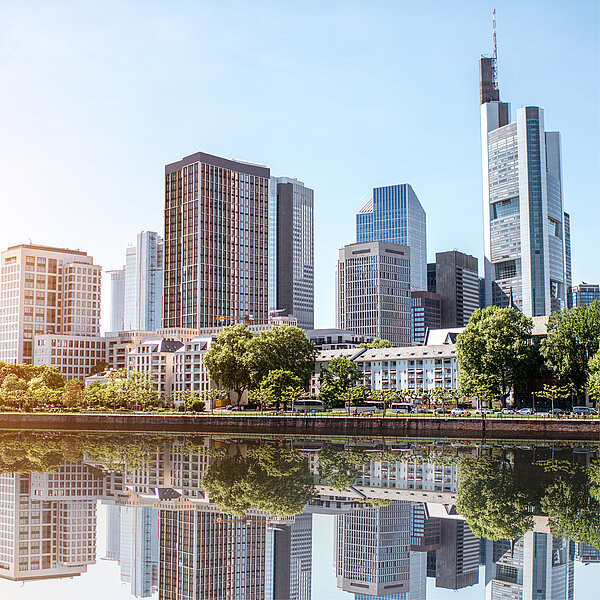 6. City trip to Frankfurt
The business metropolis of Germany offers skyscrapers as well as a wonderful old town with student flair. Rustic restaurants line up with museums and historical buildings.
Accommodation in Frankfurt
We are represented in the Hessian metropolis with four Dorint Hotels. Whether in the middle of the spa park Bad Vilbel, in the former business district of Frankfurt-Niederrad, idyllic in the wooded Taunus or shopping at the Main-Taunus-Zentrum you will stay with us comfortably and relaxed.
Sights at a glance:
Römer (City Hall) & Römerberg
St. Paul's Church
Imperial Cathedral of St. Bartholomew
Maintower
Iron Bridge
Museum bank
Old Opera Frankfurt
Goethe-Haus & Museum
Opel Zoo & Frankfurt Zoo
Our city break hotels in Frankfurt/Main:
7. City trip to Dresden
The cultural city of Dresden is known for numerous historical buildings, special museums and the Semperoper, which is one of the most famous opera houses in Germany. The baroque flair of the city enchants every visitor on a city trip.
Accommodation in Dresden
In the heart of Dresden and only a few steps from the Old Town you will stay at the Dorint Hotel Dresden. End an eventful day in the wellness area with pool and sauna.
Sights at a glance:
Frauenkirche & Neumarkt
Old market
Semperoper
Dresden Kennel
Elbe Castle
Residence Palace
Cathedral
Princes' train
Albertinum
Large garden
Our city trip hotel in Dresden:
8. City trip to Munich
North of Munich, in Garching you can enjoy all the advantages that the greater area of the Bavarian capital has to offer. Sports enthusiasts will appreciate the proximity to the "Allianz Arena" and the fast connection to the "Olympiapark". Munich city centre is just as easy to reach.
Accommodation in Munich
The Dorint Hotel München/Garching is located in the new business park in Garching and only a few steps from the nearest underground station.
Sights at a glance:
Victual market
Marienplatz
Church of Our Lady
English Garden
German Museum
Nymphenburg Castle
Hofbräuhaus
Allianz Arena
Old Pinakothek
Olympic Park
Our city trip hotel in Munich:
Offers for your city break in Germany
Whether for short breaks, holidays or special events – we are happy to surprise you with special arrangements and offers for your city trip.
Wellness hotels in Germany
Would you like to combine your city trip with a wellness break? Many of our hotels offer a spacious spa and fitness area. After the cultural programme, you can relax in the sauna or swim a few laps in the pool before breakfast.