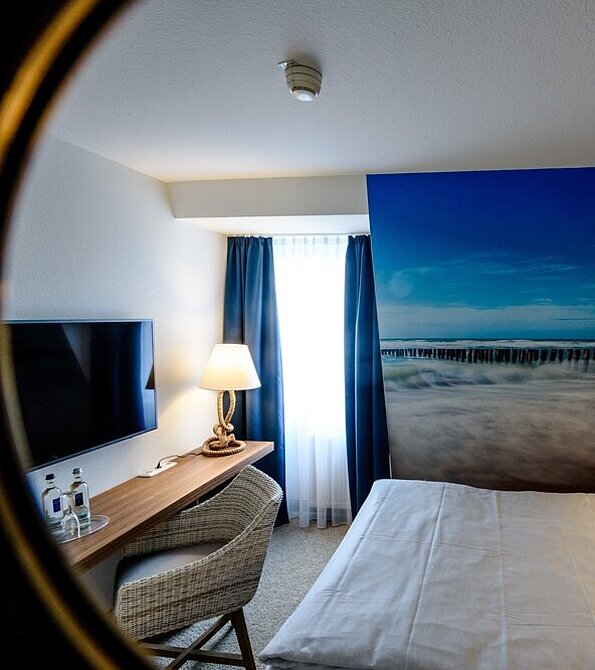 Your Dorint Hotel Alzey/Worms
The Dorint Hotel Alzey/Worms is a fusion of typical flair of the Rheinhessen and a pinch of the Baltic Sea. This results in a unique atmosphere that invites you to relax and unwind. The maritime ambience is carried by numerous motifs, furniture and the charm of the hotel.
105 rooms and junior suites
Restaurant "Achtern Diek
Harbour bar "Spelunke
Karl-Heinz-Kipp-Straße 13, 55232 Alzey
Telephone: +49 6731 4030
Fax: +49 6731 403106
Email: info(at)alzey.dorint.com
Reservation center Alzey/Worms:
Reserve now!
Stadtzentrum
2 km
Bahnhof
3 km
Flughafen
35 km
Welcome
Sand under your feet, beach chairs and the maritime atmosphere of our hotel guarantee pure vacation feeling. However, there is not only something for the eye here! To put your palate in the perfect mood, Rheinhessen specialties meet classic treats from the East Coast here.

Treat yourself to a mini-vacation in Rheinhessen with a Baltic Sea feeling.

We look forward to seeing you!

Your #HotelHeroes from the Dorint Hotel Alzey/Worms
Meetings & Celebrations
Meetings with a fresh breeze
Our hotel offers you more than just a venue for your conference or seminar series. Besides the 13 event rooms of different sizes, especially our Baltic Sea theme is the special plus. Invite your participants to relax in the beach chair, enjoy a cool drink and feel the fine Baltic sand between your toes during the coffee breaks. And all this without having to travel to the distant Baltic Sea. We take you on a journey along famous seaside resorts.
Our meeting rooms
Meeting rooms

Our house accommodates a whole 13 meeting rooms, which measure a total area of up to approx. 900 m². All our meeting rooms are equipped with daylight and the most modern conference technology. Individually adjustable air conditioning is available in 6 of our meeting rooms and most rooms can be darkened.

More information and details about our meeting rooms
This business is a franchisee of Dorint GmbH and is managed independently, in its own name and for its own account, by the respective operating company:

Dorint Hotel Alzey/Worms
Halbersbacher Privathotels GmbH, Mollistraße 10, 18209 Bad Doberan, Local Court Rostock: HRB 12283
Managing Director: Arne Mundt
VAT ID No.: DE283313489