Your Dorint Hotel Venusberg Bonn
Be our guest on the Venusberg!
The 4-star superior Dorint Hotel Bonn Venusberg is one of the most attractive places in the old federal capital Bonn and in the Rhineland. Situated in the greenery on a hill surrounded by centuries-old forests under nature protection, the hotel is not only an upscale address for a city trip, but also the ideal starting point to get to know the Rhineland in detail. Combine the best of both worlds: Because despite the idyllic quiet location, it's not far to the city center.
Number of rooms: 87
Restaurant Basilico
Reservations: Alexander Depène
alexander.depene(at)dorint.com
Convention / Sales: Jennifer Sommer
jennifer.sommer(at)dorint.com
An der Casselsruhe 1, 53127 Bonn
Telephone: +49 228 288-0
Fax: +49 228 288-288
Email: info.bonn-venusberg(at)dorint.com
Stadtzentrum
6,6 km
Bahnhof
4,6 km
Flughafen
30 km
Welcome
We welcome you to our hotel in the former federal capital with its art and culture scene, perfectly complemented by relaxing nature. Here, every guest gets his money's worth: We hope that we will be able to have you visit our house very soon and provide you with feel-good moments.

We are looking forward to seeing you!
Your

Markus Castles
and the #HotelHelden of the Hotel Dorint Venusberg Bonn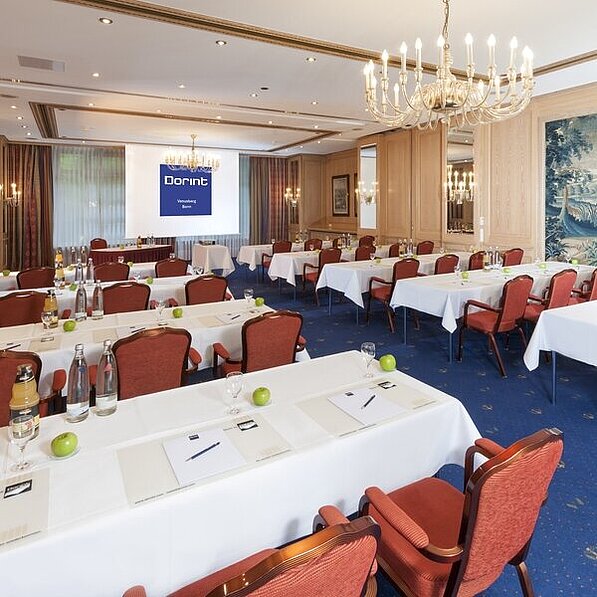 Events and incentives with freedom
The exclusive, elegant and yet with the latest conference technology equipped rooms in the extensive hotel complex of the Dorint Venusberg Bonn make your event an event that neither your guests nor your colleagues and customers will soon forget.
Our professional event team will accompany you before, during and after your celebration with first-class service.
Meeting rooms

Whether company anniversary, birthday or conference - in our spacious rooms every event becomes an unforgettable memory. For larger corporate events, our ballroom "Fidelio" with its noble ambience offers the perfect background. For conferences and seminars, five stylish salons are available, which can be combined in any way depending on the number of participants.

More information and details about our meeting rooms
This hotel is operated under the management of Dorint GmbH, Cologne, on behalf and for the account of the respective operating company:

Dorint Venusberg Bonn
Under management of Dorint GmbH, registered office: Cologne

In the name and for the account of Vertax Trade&Logistics GmbH, registered office: Bonn Register Court: Bonn, HRB 20162
Managing Director: Kirill Kravchenko
VAT ID No.: DE277113567