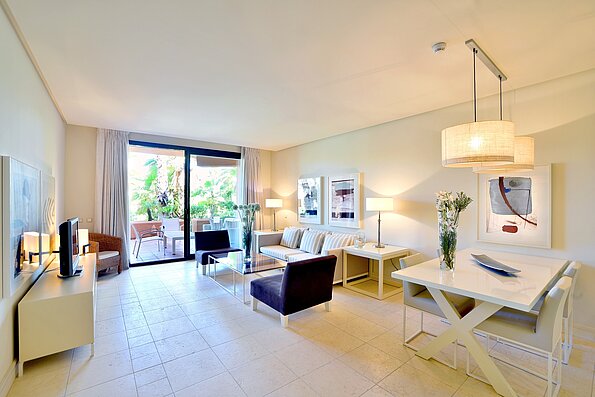 Your Novo Resort The Residence Luxury Apartments by Barceló
Novo Resort The Residence Luxury Apartments complex is located directly on a golden sandy beach with crystal clear waters, La Barrosa, in Chiclana de la Frontera. Its excellent location allows easy access to the airport of Jerez, just 50 km away, and is only 39 km from the capital, Cadiz.
The 91 luxury apartments and penthouses have been furnished by the famous interior designer Pedro Peña and feature high quality furnishings with all the trimmings. All apartments have a terrace, some additionally have their own barbecue, pool or jacuzzi.
Urb. Loma de Santi Petri, Calle de la Barrosa, S/n, 11130, Cádiz, Spain
Telephone: +34 956 24 27 90
Email: sanctipetri(at)barcelo.com
Reservation center Reservation:
Reserve now!
Playa de La Barrosa
500 m
Novo Sancti Petri Golf Course
3 km
Airport XRY
65 km
Novo Resort The Residence Luxury Apartments by Barceló
Luxury apartments
In direct beach location
Some apartments with pool and/or whirlpool