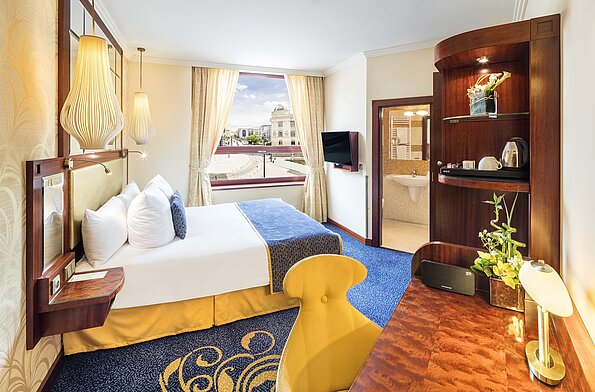 Your Occidental Praha Wilson
The Occidental Praha Wilson***** is located right in the center of Prague, next to Wenceslas Square, and offers the perfect stay to get to know the city. Newly built, it is an ideal city hotel for families, couples or business travelers. The hotel has 53 rooms characterized by generosity and warmth, as well as a magnificent view of the National Museum, the UNESCO heritage site, the City Castle or the Opera (Prague State). The Occidental Praha Wilson is an oasis of calm in the heart of the Czech capital, with excellent connections and a metro stop right outside the door. This, along with the airport pick-up service, makes it perfect for business travelers and makes their stay easier and more comfortable. However, it is also ideal for vacationers who want to get to know the city while staying next to Wenceslas Square.
Prague, with its cobbled streets, countless monuments, exciting gastronomy and modern pace of life, is an essential city for the most vital traveler. The Occidental Praha Wilson was born to provide the best located 5-star accommodation to facilitate the experience of the city.
Vaclavske namesti 59, 11000 Prague, Czech Republic
Telephone: +420 224 248 667
Email: prahawilson.res(at)occidentalhotels.com
Reservation center Reservation:
Reserve now!
Trade Fair Palace
2,5 km
Airport PRG
11,3 km
Shopping zone
500 m
In the heart of Prague, next to Wenceslas Square
Excellence and comfort
With a view of the National Museum, the Opera and the Castle